UX/UI Designer and Researcher hired to investigate falling revenue from donations year over year in Greenpeace Malaysia.
4 months
March 2022 - July 2022 (Contract)
Greenpeace is an independent global campaigning network and known for their direct actions.
Greenpeace Malaysia works to protect the environment for a safer future and a liveable world.
Revenue from donations is falling year over year.
How might we motivate younger people to donate?
I investigated Greenpeace annual reports over 10 years of trends and found the younger generation have tended to donate less and less as time goes by
There was a considerable discrepancy in the different age brackets of donors, which led me to realize we need to bring younger people on board for future fundraising.
While I was investigating annual training reports and GYSEA Data analytics to find a clue, I found interesting patterns among young professionals.
I was hired to figure out why people have a hard time donating.
​
60% of the target donors are at least 35 years old or olderI was hired to figure out why people don't want to donate.

Revenue is falling down year by year

The 25-34-year-old bracket has the highest population but the smallest donation segment

Women in the 25-34 age group represent 24% of the 'Inactive' or 'cancelled' donors
Overview of 5 Research Findings
People need an answers for "where does my money go?" Updating recent activities with monetary transparency strengthens relationships between the donor and their organization and helps nurture an environment of collaboration.
Transparent payment methods foster trust and open communication.
The content gets lost in difficult-to-read typography; your customers cannot read it and click away.
Tone expresses the company's personality and core values and sets the business apart from its competitors.
Greenpeace has low volume on non-brand rankings and needs to be optimized.
4 NGO Websites Do the Following Better
FINDING 1 TRANSPARENCY ISSUES
Why Is It Essential to Have Business Transparency?
Transparency fosters trust and open communication.
It strengthens relationships between the donor and their organization and helps nurture an environment of collaboration.
Information Architecture : Donation options
Concept Design : Payment options
FINDING 1: TRANSPARENCY ISSUES CONCEPT RECOMMENDATION
Concept Design: Footer Page
Trustable local office location & contacts provided
FINDING 1 : TRANSPARENCY ISSUES

CONCEPT RECOMMENDATION
"Where was my money going?" will be answered
The infographic shows how Greenpeace works.
It provides each step of the donation process and the diversification of the payments.
Concept Design: Donation Page
FINDING 2 : PAYMENT METHOD ISSUES CONCEPT RECOMMENDATION
How Do You Attract Young Donors to Your Nonprofit Organization?
Choose your comfortable amount of donation
Diverse payment methods, including debit card, bank transfer, and cash delivery
It provides each step of the donation process and the diversification of the payments.
Concept Design : Card payment options
Instead of preset of donation amount, Choose the amount that you would like to donate. Debit card is preferred for the donor, but credit card would be more secure for the organization.
Cash is the most preferred way to donate.
FINDING 3 : LEGIBILITY & READABILITY ISSUES
#3 Legibility & Readability Issues
Why is Legibility & Readability Important?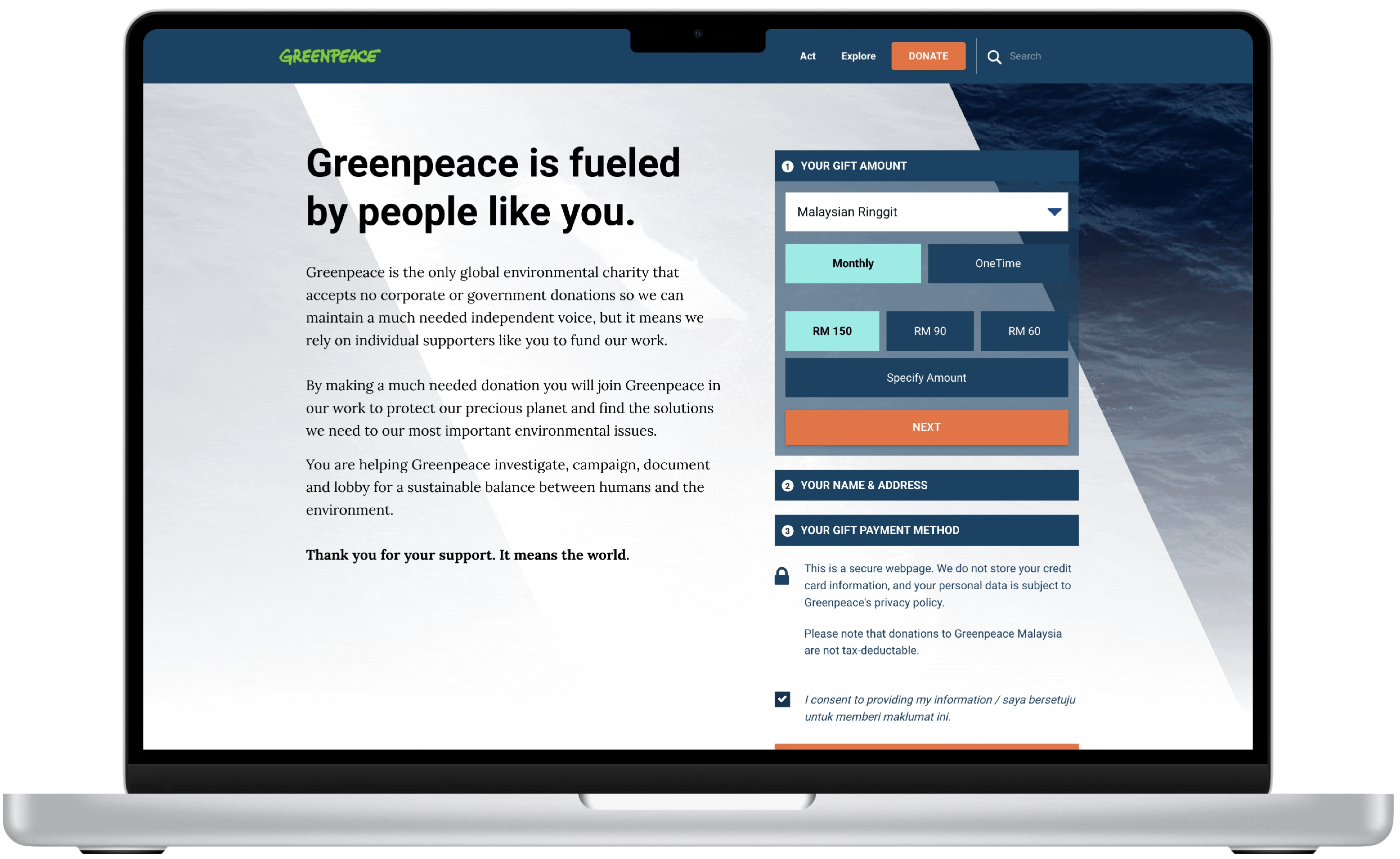 "I started with Greenpeace international website not the Malaysia website. I can't trust that I am in the right website."
"I am not sure I can able to donate my money to this website because it is hard to read the articles and not linear orderline. so that makes me feel outdated."
"single photo of polar bear doesn't mean anything to me. what was the purpose of showing the polar bear? Is this a saving earth project?"

(JitYoung Koh ,Copywriter)
FINDING 3 : LEGIBILITY & READABILITY ISSUES CONCEPT RECOMMENDATION
Valuable volunteers who know how to leverage critical social media channels are needed
Supporting the need for supplies for volunteers and locals
Learn more about the history of Greenpeace
The history of Greenpeace shows how we can move forward on environmental issues
Concept Design: Volunteer Page
What is the tone of a website?
Concept Design: Newsletter
FINDING 5 : DISCOVERABILITY ISSUES
#5 Discoverability Issues
How might we recover from a loss of fundraising revenue?
Landing page shows where Greenpeace uses donations
Answers the question, "Where do my funds go?"
You can choose the volunteer types and see what kinds of work you could provide
Learn more about Greenpeace's victories
Using Google Analytics and Semrush Marketing reports,
I found out huge social impact on keywords variations compare to 6 month ago.
Greenpeace is now to be considered user-friendly keywords and search engine-friendly SEO & SEM in order to make users discover their website.
Still, cancellation is the number one concern in the keywords, relevant keywords fill up the Greenpeace search engine, making it easy to navigate and easily found on the search engine.
Greenpeace Malaysia have drastically changed on their donation process. We minimized outdated address form and lower down the donation amount.
​Over the past 50 years, Greenpeace has indeed changed the world. Our committed activists and supporters have come together to ban commercial whaling, convince the world's leaders to stop nuclear testing, protect Antarctica, and so much more.